MHO Monday Mingle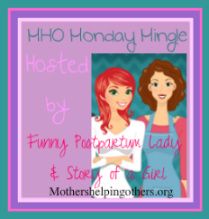 Welcome to the Monday Mingle!
This Week's Theme: LOVE
1. Who was your first love?
This is a little embarrassing but I had a H-U-G-E crush on this boy at my school named, Jason. I liked him for 3 years. I don't know if you would call that love, it might have been more like a
obsession
My family still teases me about it.
2. Do you remember your first kiss?
First real kiss? Like other than from my mother as a baby? lol Yeah, his name was David I was in 5th grade. I was so freaked out after that I avoided him for the rest of the school year. Wow, I was am a big dork.
3. What are your plans for this Valentine's Day?
What is Valentine's Day? Just kidding. I don't remember that last time I celebrated Valentine's Day. Let's see it's a Thursday this year so Aaron will be working, the older kids will be at their dads so it will just be me and Blayn.
4. What do you love most about your Significant Other? If you're single, what quality do you look for the most?
I love how he is with the kids. Whether he is playing with Blayn, being silly with the older kids or having a serious talk about good
behavior nothing compares to watching him be a dad. Those moments when he puts down the phone or computer and just gives them his undivided attention.
5. What would be your DREAM gift for Valentine's Day?
I'm well taken care of so there really isn't anything that I need. Clothes, I guess. I'm the type of person that waits until I really need something before I ask for it.
Grab the button and questions and repost on your page!!!
Link your post up and mingle with other bloggers!!! No rules, just meet new people!